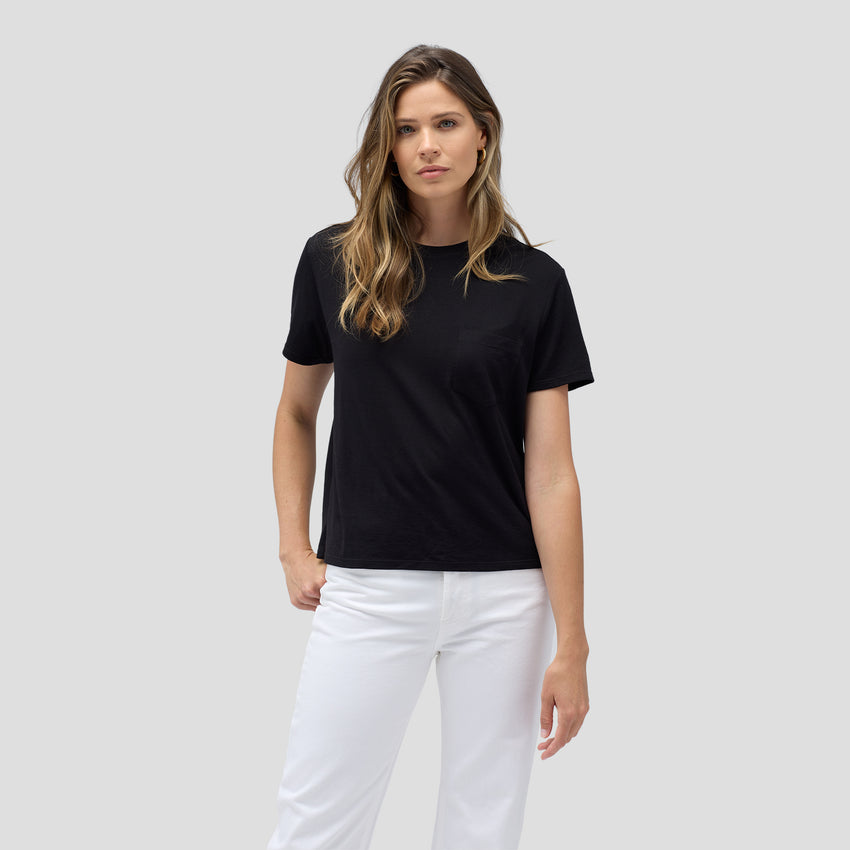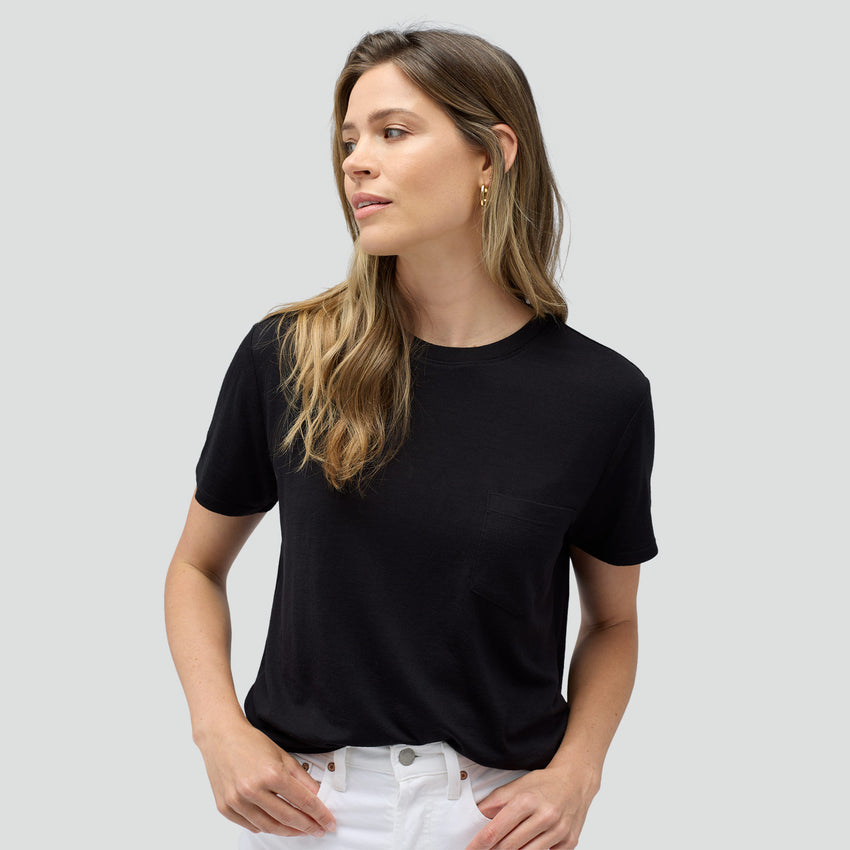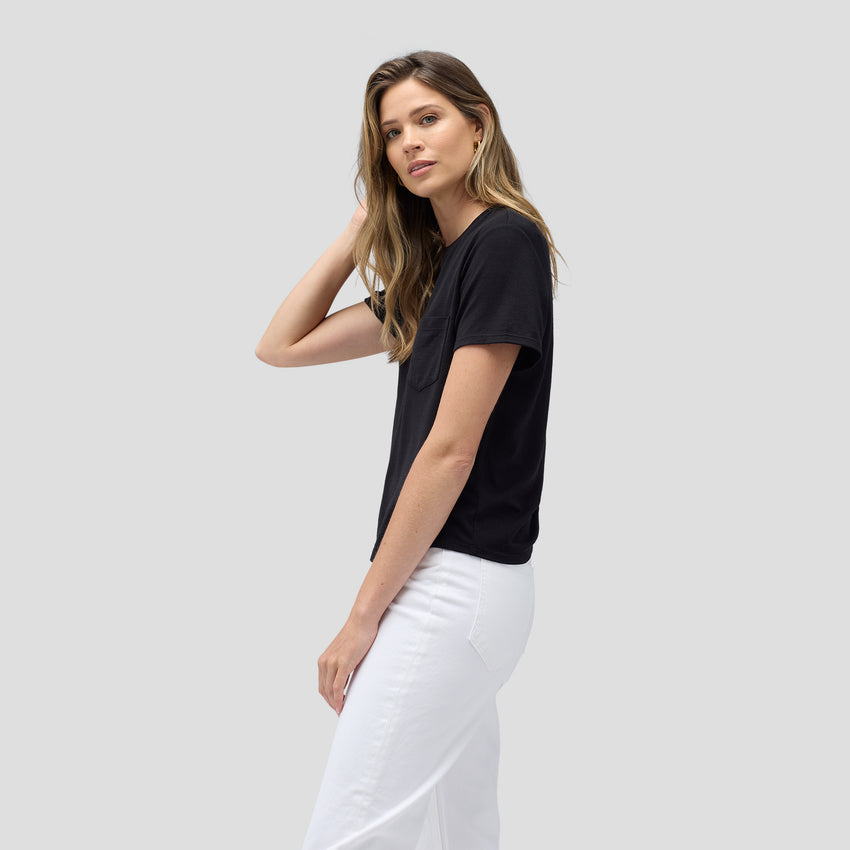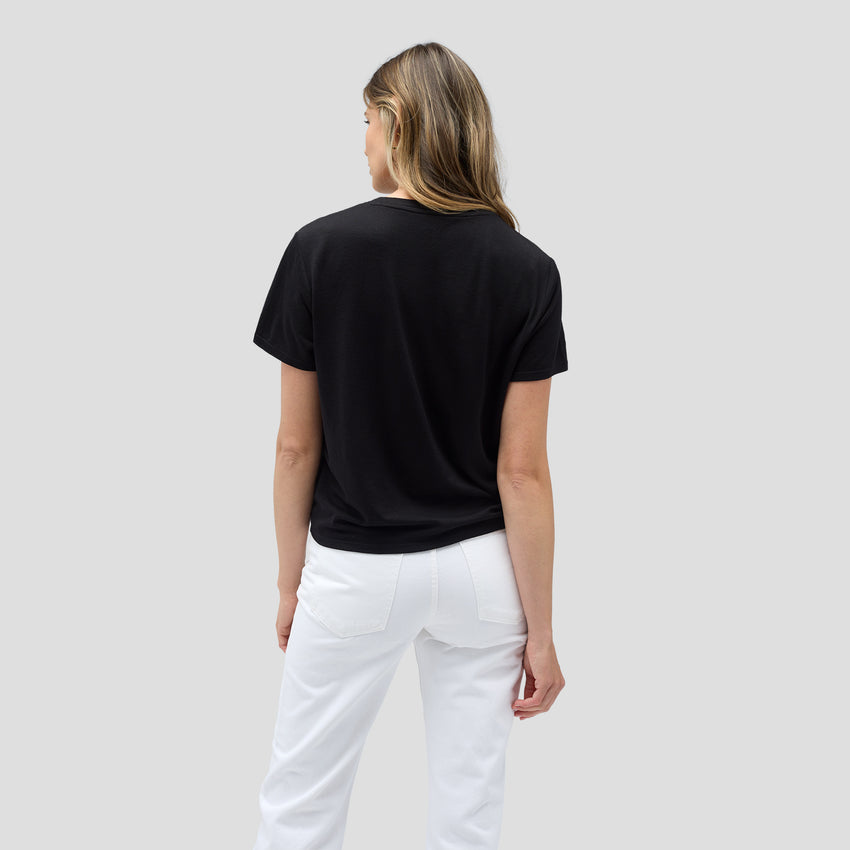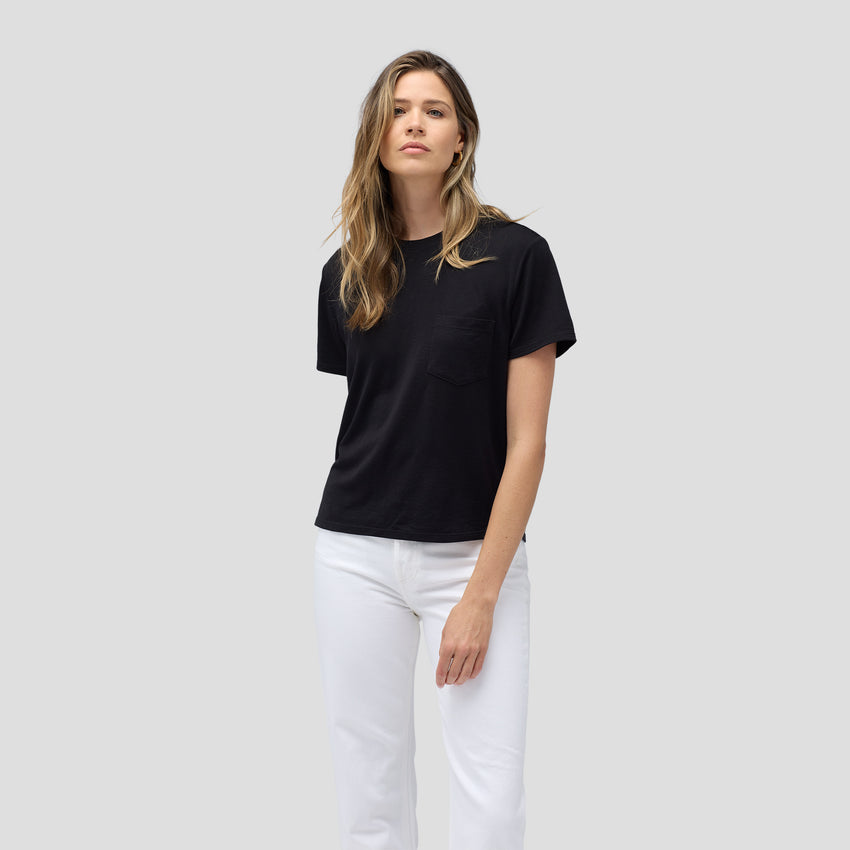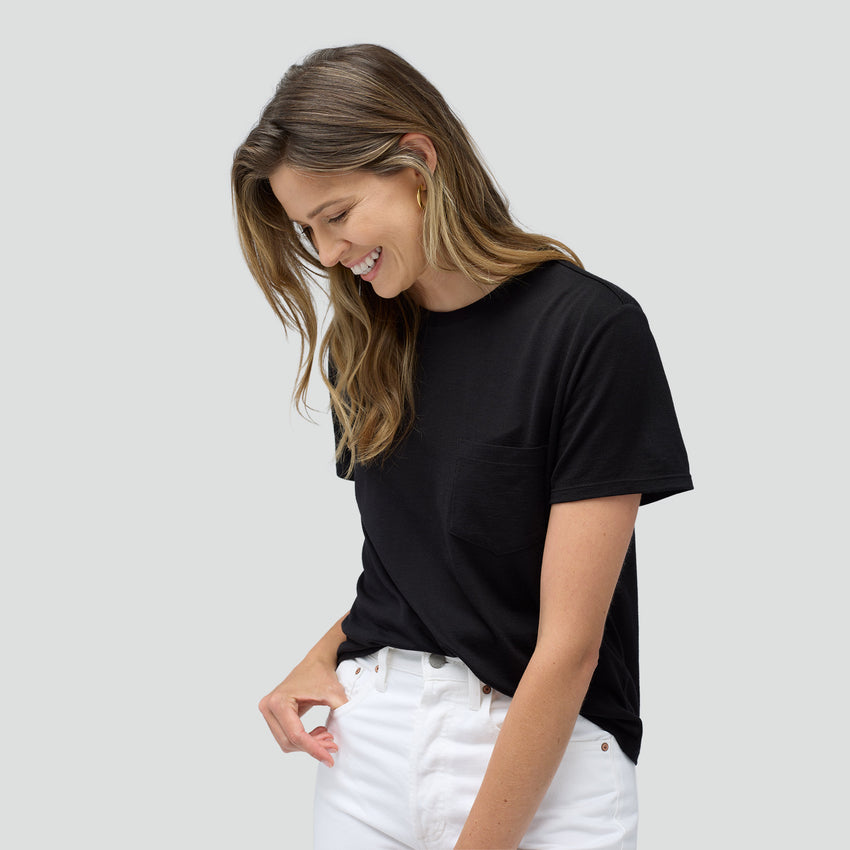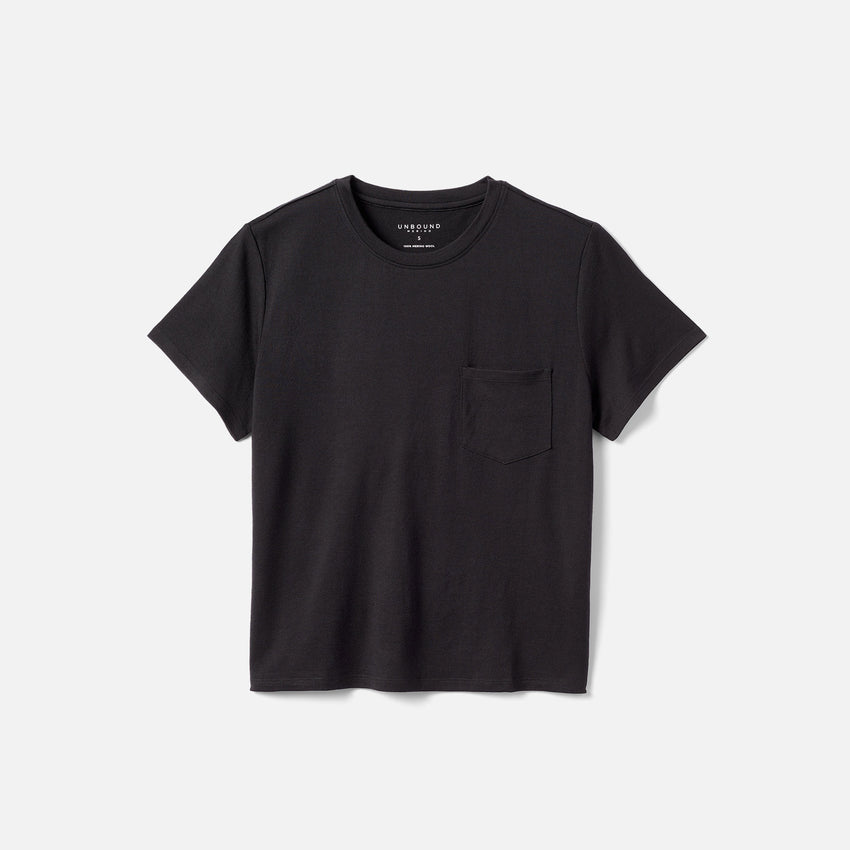 Pinch or double tap to zoom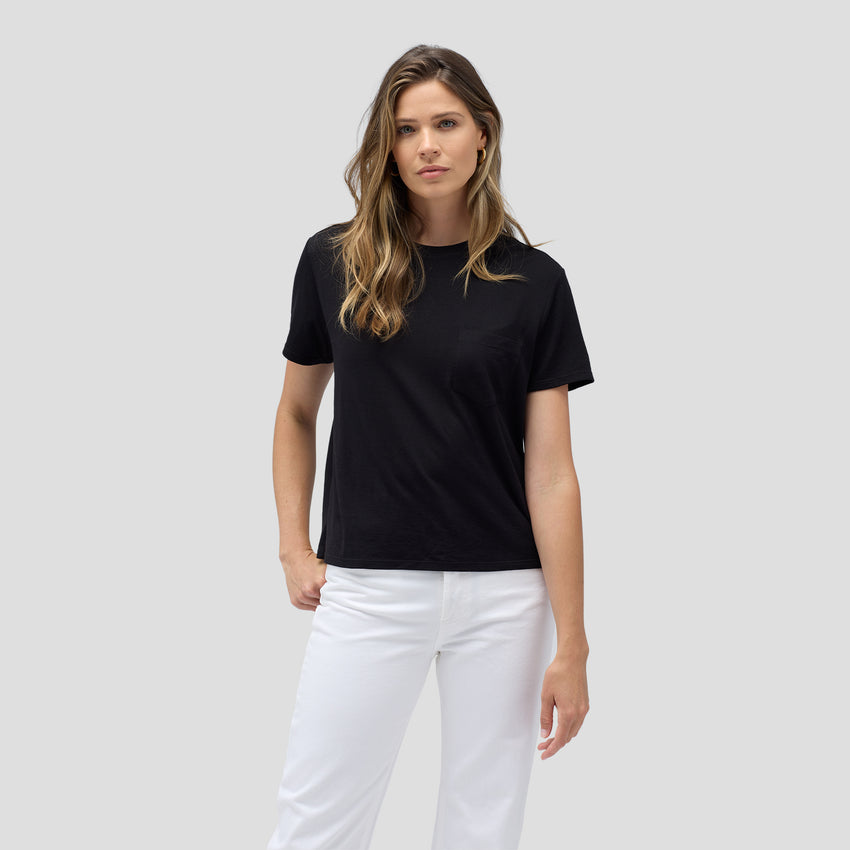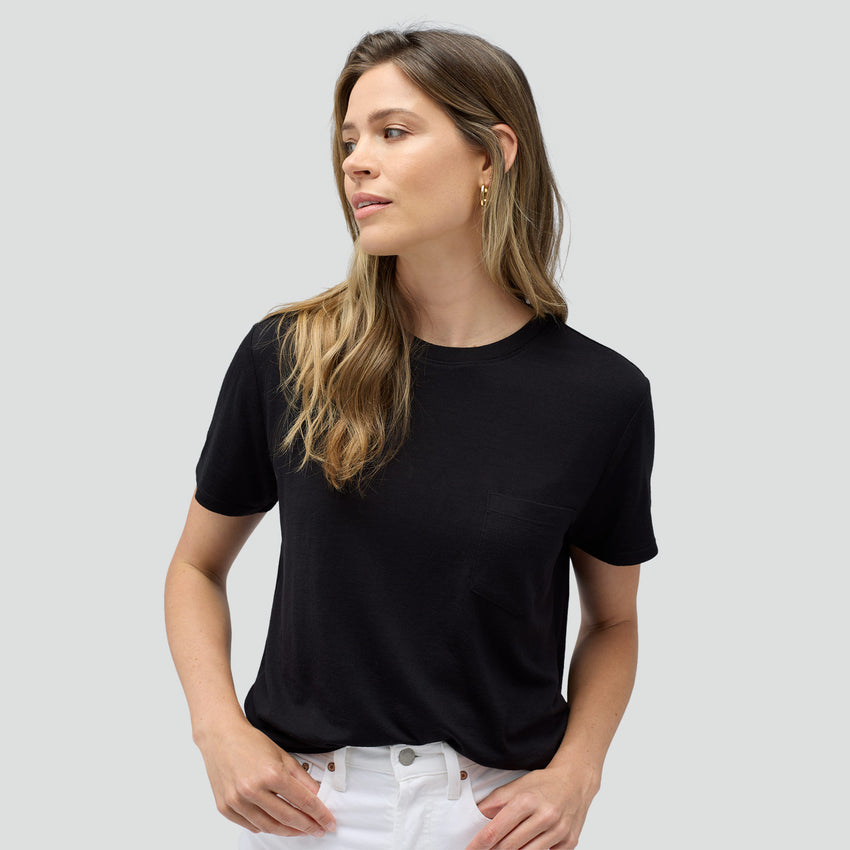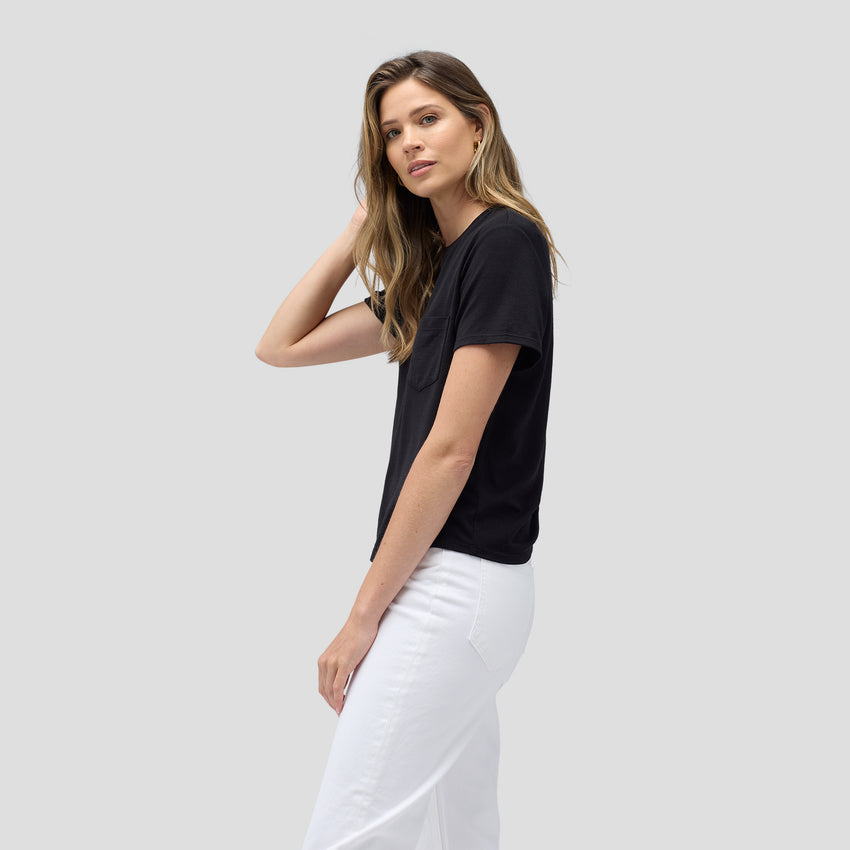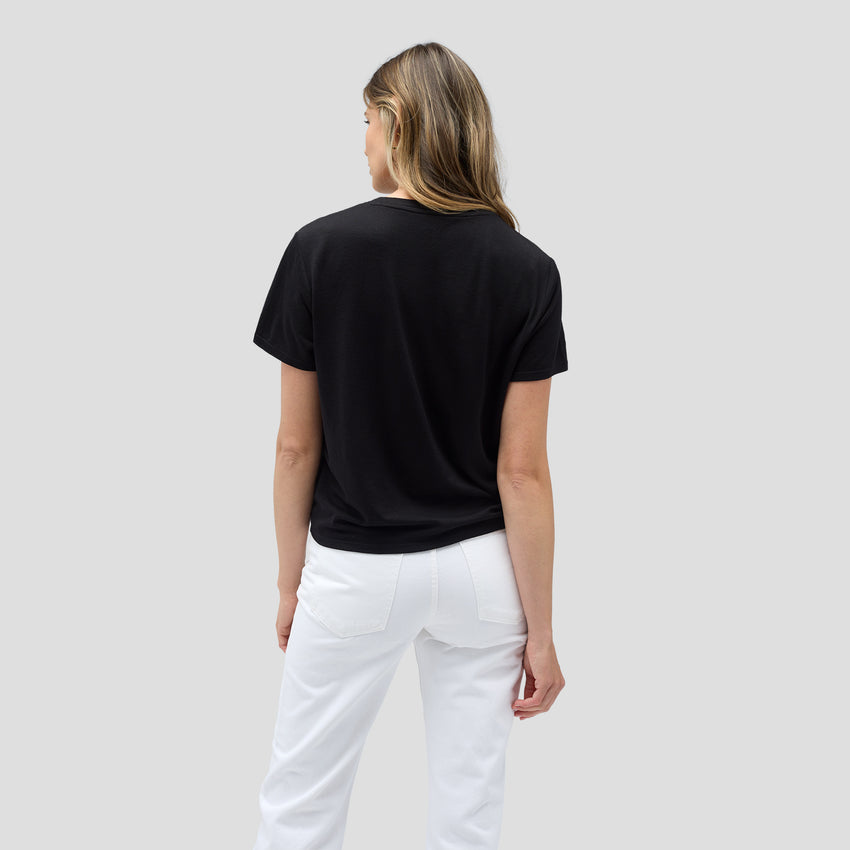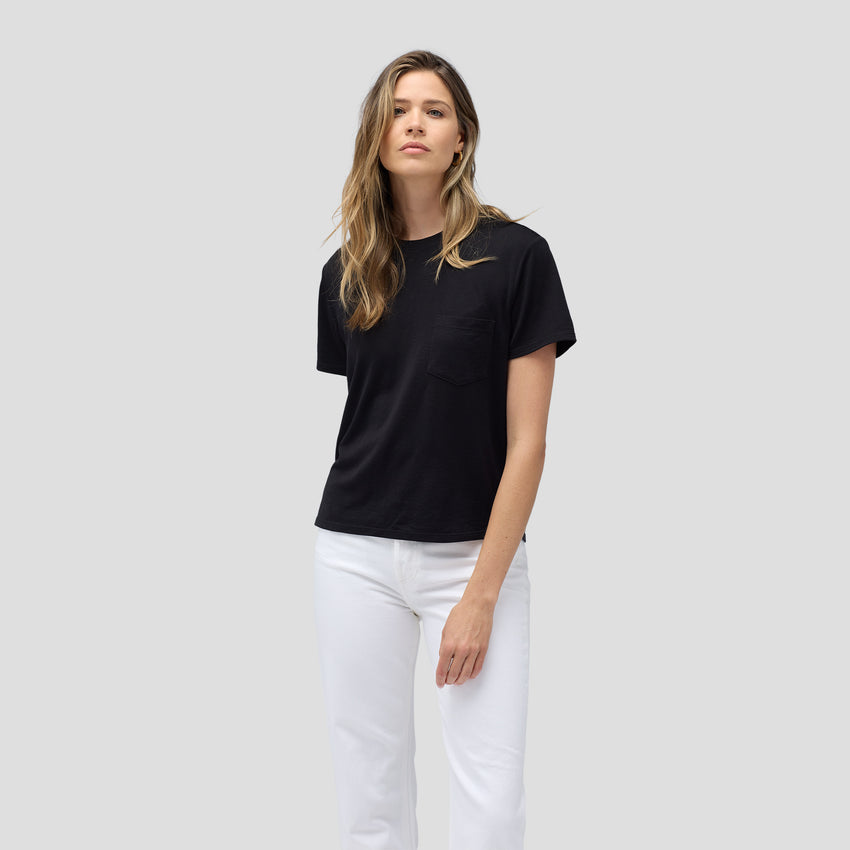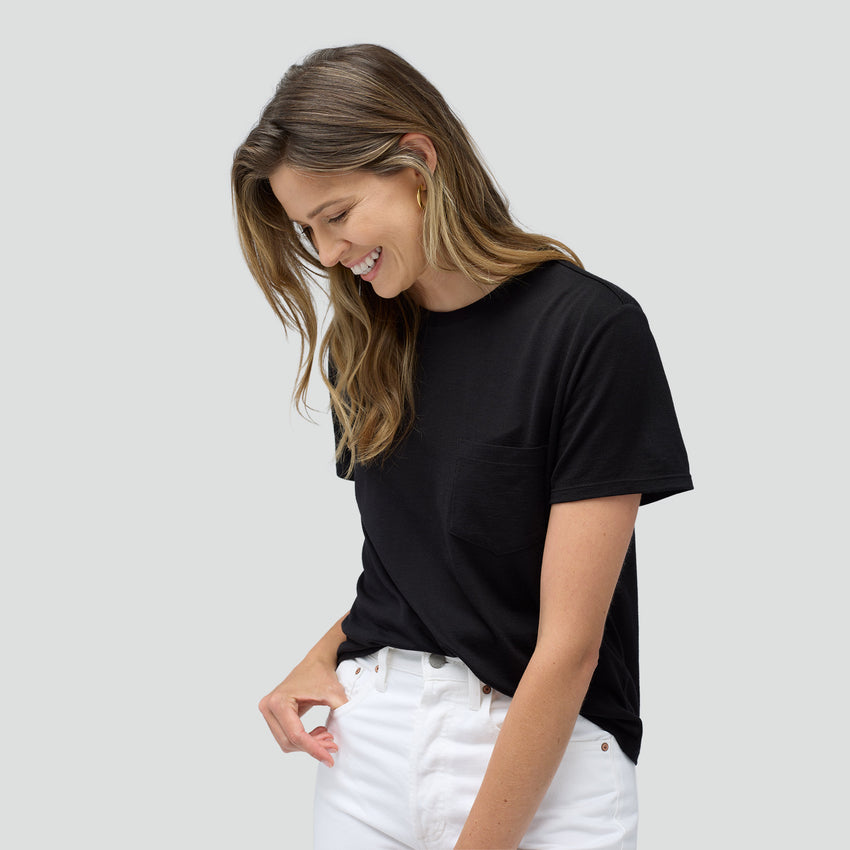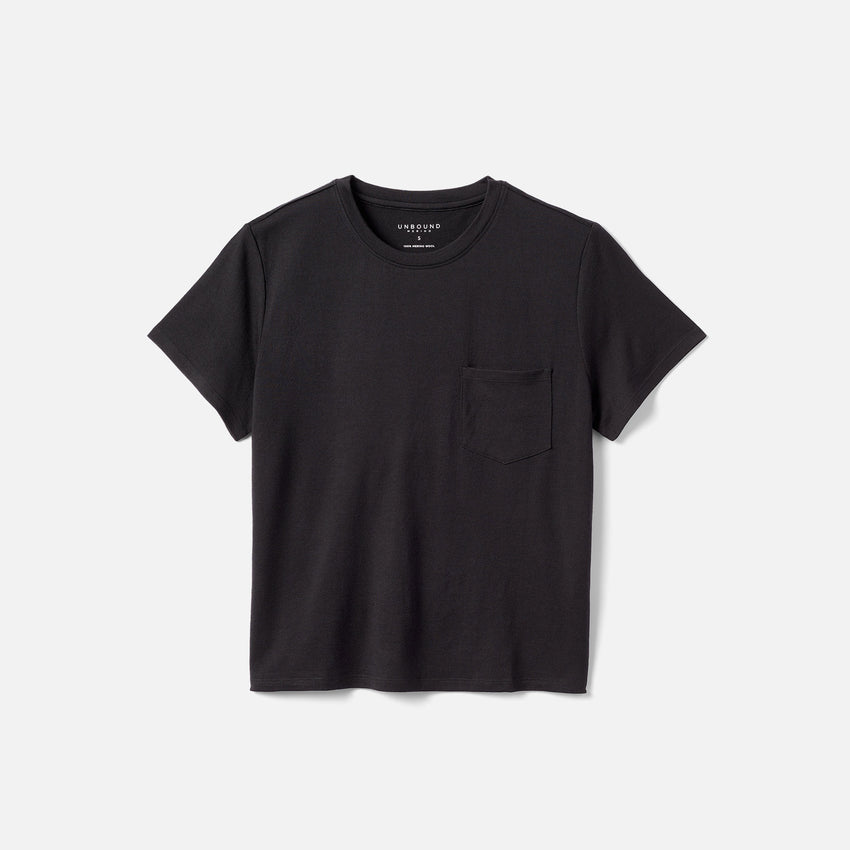 Pinch or double tap to zoom
Model Info +
Height: 5'10" / Bust: 34 A" / Waist: 28" (Wearing size S)
Women's Merino Boxy Pocket Tee
Regular price
Sale price
$85
Unit price
per
or interest-free payments of $21 with
Your essential tee, elevated with the natural performance Merino wool. Features a roomy cut and a slight crop for a modern, relaxed look.
Learn More
Why our
customers love us
Odor resistant

Fast drying

Moisture wicking

Anti-wrinkle
Wash in normal to cool temperature setting.
Wash with like colors.
Lay flat to dry in shade.
Do not bleach.
Do not tumble dry.

A MODERN TAKE ON A CLASSIC CUT.
Less washing with antibacterial clothing that stays dry, clean and fresh.
Casual and versatile style with no flashy logos.
Dries really fast, keeping you comfortable.
Won't smell after weeks of wear, unlike cotton and synthetics.
Pack less with clothing that doesn't need a wash after each use.
"The perfect T-shirt can see you through almost any situation, and Unbound makes a strong bid for the title with their chic merino designs."
"This shirt is capable of handling just about any terrain... This is the go-to shirt for everything from the trail to the beach to the bar for happy hour."
"I may hold off on washing this T-shirt for another few weeks. It miraculously looks (and smells!) like it was just cleaned."
"These tees have a sophisticated European elegance to them, thanks to both the material and design. Just looking at them makes you feel chic."
"Between the flattering fit and the classic style, it's a great option for travel."


SOFTER THAN COTTON
This wool isn't like your typical itchy sweater. We only use superfine (17.5 micron) Merino wool, resulting in a luxuriously silky soft, shirt that's lighter and much softer than the average Merino or cotton shirt. It'll also maintain its form over time and not get ruined after a wash, like most clothes these days.
Learn more about the benefits of Merino wool

REGULATES BODY TEMPERATURE
From the slopes to the chalet, the natural fibres of Merino wool are excellent when it comes to regulating your body temperature. The breathable material retains warmth, but not to the point of overheating - providing optimal comfort in any condition.
COZY SOFTNESS
Modern spinning technology has made Merino wool the softest, most luxurious of all wool types. Perfect against your skin, the fibers will never itch or irritate, outclassing any and all synthetic fibres.



EASY CARE
You won't have to wash this shirt much at all. However, when it comes time for a refresh, simply add it to your load at the normal or cool temperature setting and then lay flat to dry.
ABOUT OUR WOOL
Sustainably sourced from independent, cruelty-free wool farms.
Woolmark® certified Merino, adheres to the highest standards related to fibre content, performance, color fastness and dimensional stability.
WRAP (Worldwide Responsible Accredited Production) certified production.
Tested to ensure our clothing stands up to the rigors of travel and continual use.
sonica c.
The material is the best Merino wool I have owned to date. Couldn't be happier.
sonica c.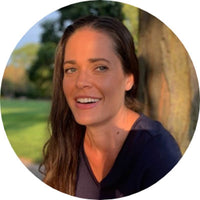 ava b.
Replacing my entire wardrobe. I can only say the hype is real.
ava b.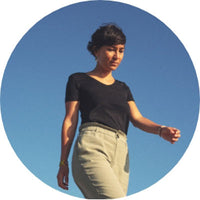 Jamie F.
Can wear a dozen times without washing. Just hang on a hook to let sweat dry and it's as good as new. This thing is magic.
Jamie F.
Perfect for Travel
YOU'LL PACK LIGHTER
With clothing that doesn't smell after every use, you can pack less, allowing you to ditch the suitcase and travel with just a small backpack.
YOU'LL SAVE MONEY
These days, most airlines are going to charge you for anything other than a carry-on. Start packing lighter and doing less laundry, and save your money for the real experiences.
YOU'LL SAVE TIME
Never check luggage or worry about airports losing your stuff. With fewer but better clothes you'll blaze through airports like a seasoned pro.