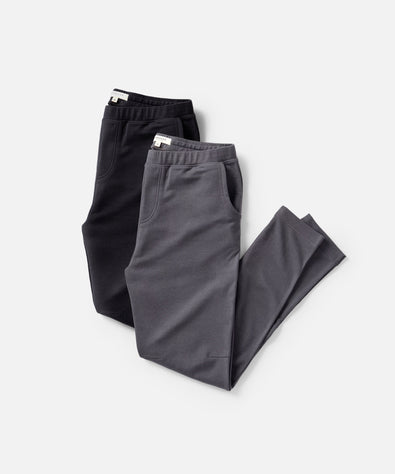 Exercise Better in Merino Wool Sweatpants
Sweatpants are an exercise essential, whether you're heading to the gym or jogging on a cold winter morning. New Merino wool sweatpants were made to keep up with your workout.
If your workout routine has taken you into the outdoors, Merino sweatpants keep your legs comfortable in all weather. In the heat, Merino Tencel sweatpants draw sweat away from your skin and help it evaporate into the air. On cold days, the fabric traps body heat and keeps your leg muscles warm. Cold muscles tighten up and stretching them can lead to injury.
You also want to make sure you're wearing clothes that wick moisture away fast. The best Merino sweatpants work fast to wick away sweat and let it evaporate back into the air, keeping you comfortable throughout your whole workout. Their odor-resistant qualities also mean they're great for multiple uses before you have to throw them in the wash. Their water-repellent properties also help keep you dry when the weather suddenly takes a turn for the worse.
Travel in Comfort
What makes the perfect travel pants? They pack easily, they don't wrinkle, and they're one of the most comfortable things you own. Merino wool sweatpants help you travel in comfort, pack light, and cut down on laundry on your trip. They're always ready when you need them. From the low-maintenance adventurer to the business traveler, Merino makes packing simple.
Stay comfortable in transit with Merino sweaters and hoodies or get ready to challenge yourself with a hike in Merino wool shorts. When you're packing for a trip, you want stretch comfort for those hours spent on a train or plane, wrinkle resistance, and fast-drying qualities. Keep your feet dry on long-haul trips with fast-drying Merino wool socks and feel fresher when you disembark. Prepare for anything on your next trip and pack Merino.
Merino Sweatpants Freshen Up Your At-Home Wardrobe
Have you been spending more time at home lately? Worn through your favorite pair of "work-from-home pajamas?" Stay comfortable at home in every season with Merino wool sweatpants for men or women.
Durable, breathable, and odor-resistant, the best Merino sweatpants are perfect for relaxing on the couch or working at the kitchen table. Pair with a classic Merino button-ups and you've got the perfect outfit for your next Zoom meeting. Thanks to Merino wool's natural smell-resistance, you can worry less about laundry and spend more time enjoying the comforts of home.
Why Wear Merino Wool Sweatpants
Merino wool sweatpants regulate your temperature and keep you dry and comfortable whether you're exercising, traveling, or relaxing at home. Merino wool is built to last from the fabric to the stitch. Every detail is carefully chosen and tested to make sure our clothing stands up to the stress of travel and regular use. Ethically sourced from independent farms and humanely sheared with care, our Merino wool is renewable, natural, and biodegradable.
You can wear Merino wool sweatpants for men or women day in and day out without worrying about odors, wrinkles, or wear and tear. Whether you're a world traveler or work-from-home warrior, you deserve the comfort and quality of Merino wool.
Read More