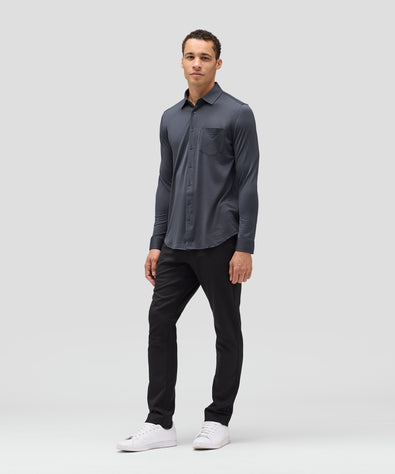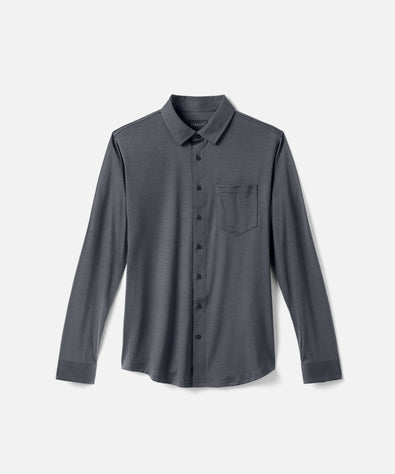 Men's Merino Wool Shirts from Unbound Merino
Look sharp and feel great in our Merino wool shirts for men. These classic button-ups are perfect for the office and evenings out while providing the comfort and breathability that Merino wool is known for.
Versatile, fashionable, and high-performance, our classic button-ups are the perfect addition to your wardrobe whether you're going to work, traveling, or need something sensible but stylish for dinner and a movie.
The Benefits of Merino Wool Button-Ups
Merino wool fabric isn't just for outdoor adventures, it's also a great fabric for everyday use. The fibres are uniquely porous and breathable, allowing moisture to quickly evaporate into the air rather than soaking the garment. No more afternoon sweat clinging to your shirt. Not only does it help regulate your body temperature and evaporate sweat, it also cancels the natural odors that come with it.
Merino wool is also wrinkle resistant, a great quality for shirts you plan on wearing to the office. Always look your best and feel ready to take on the day in these high-quality button-ups.
Synthetic fabrics are not porous, instead wicking away sweat when it is already liquid, leaving you feeling wet and clammy. When you want to stay dry all day long, there is no better option than Merino wool shirts.
What Makes Merino Wool a Better Fabric?
Merino wool is 100% natural, biodegradable, and renewable. Unbound Merino's premium, superfine wool is ethically sourced from independent wool farms. Sheep are humanely sheared annually providing material that's turned into a quality fabric built to last.
Get more use out of your shirts by investing in high-quality fabrics that are more comfortable and more sustainable. Plus, when it finally is time to say goodbye to a well-used garment, your shirts are entirely biodegradable.
Merino Wool Shirts for Men in Every Season
Ideal for every season, Merino wool clothes are highly sought after any time of year. Feel comfortable and look great when you arrive whatever the weather is like outside. Do you dread commuting on hot summer days and arriving at the office already sweaty? Thanks to a thin waxy coating on every fiber, merino wool doesn't absorb moisture the way cotton does. It's breathable and comfortable, which is great for those hot humid days.
Merino wool shirts are an excellent base layer in the winter, too. There's no need to shiver under your coat. Our Merino wool shirts for men retain warmth and keep you comfortable in the cold. They provide great insulation while their breathability means you won't be left feeling sweaty and damp from wearing your coat indoors. On those really cold days, you can layer with Merino wool sweaters to maintain the escape route for sweat and excessive heat. Each layer helps transport sweat away to keep you dry and comfortable no matter what.
Merino wool shirts are soft, superfine, resistant to odors and wrinkles, and incredibly breathable. With our classic button-ups, you can enjoy all the benefits of Merino and look great, whether you're at the office or the club. Take on your day with confidence!
Read More