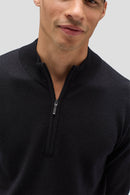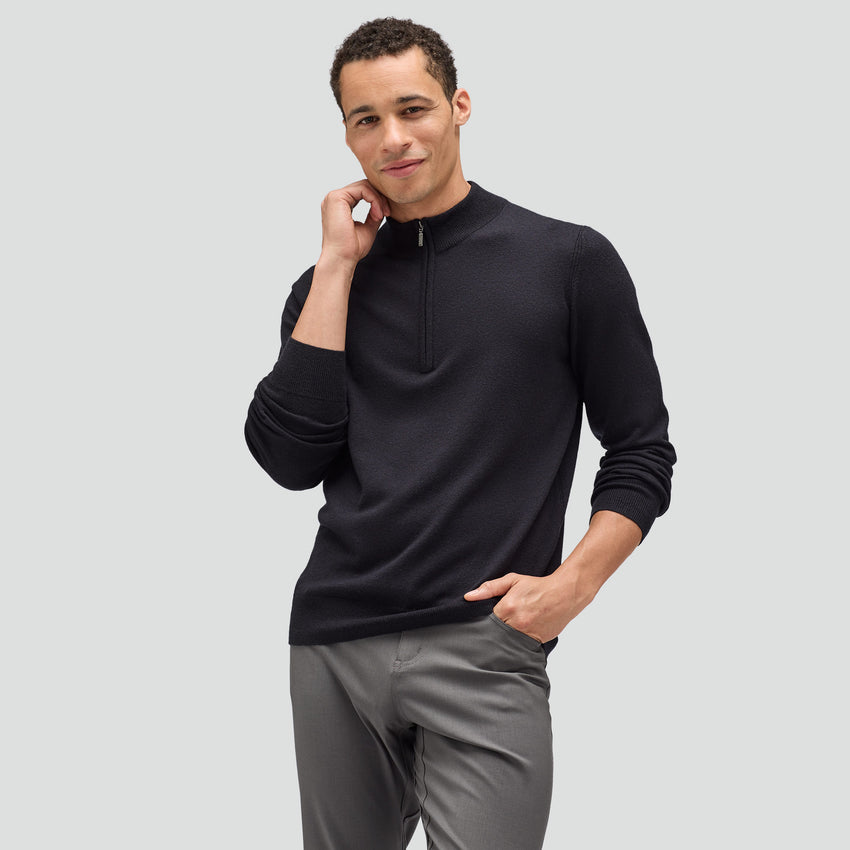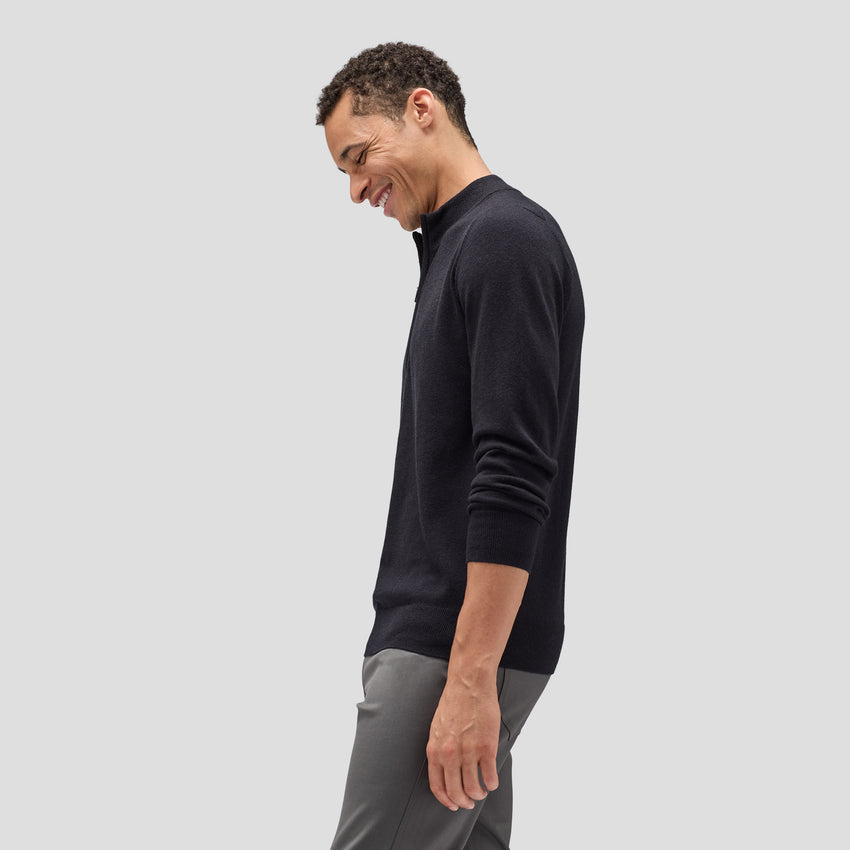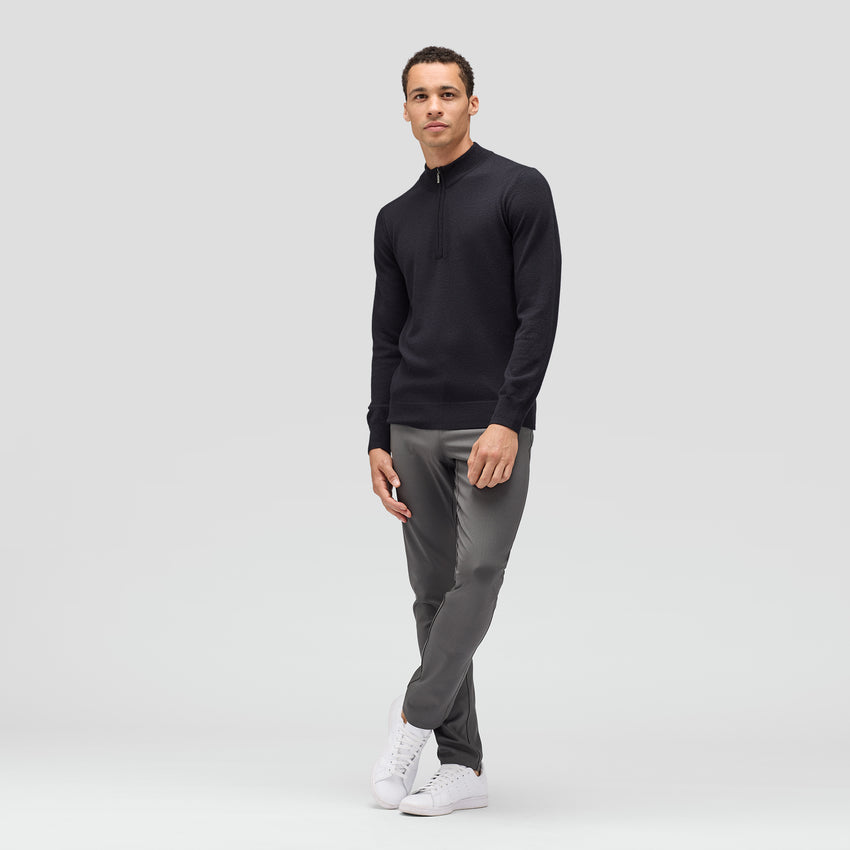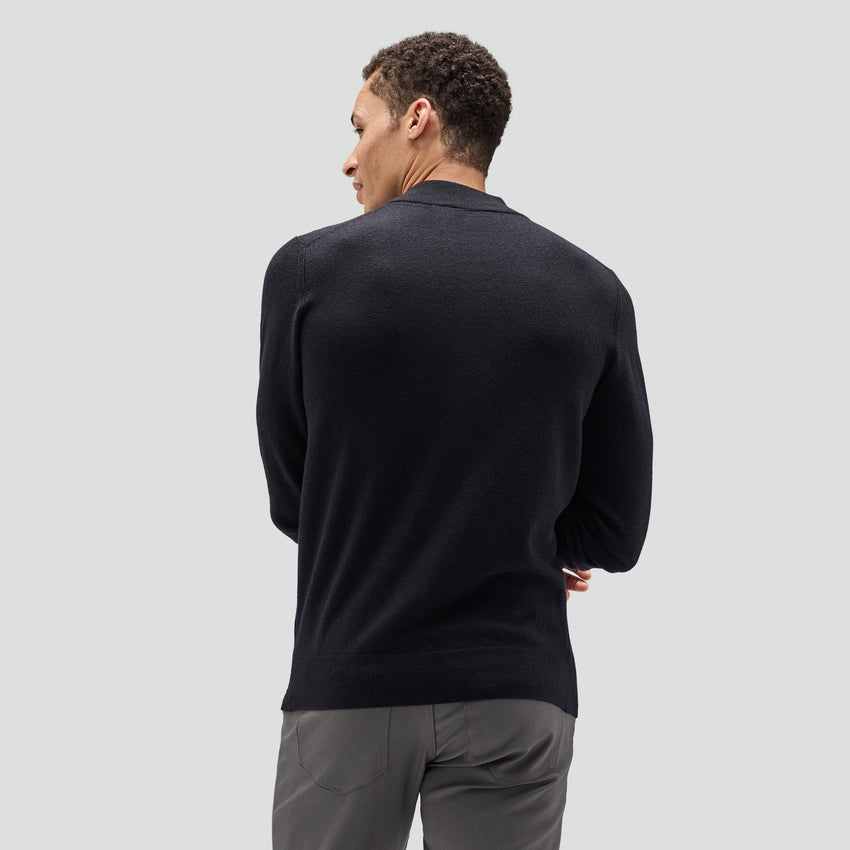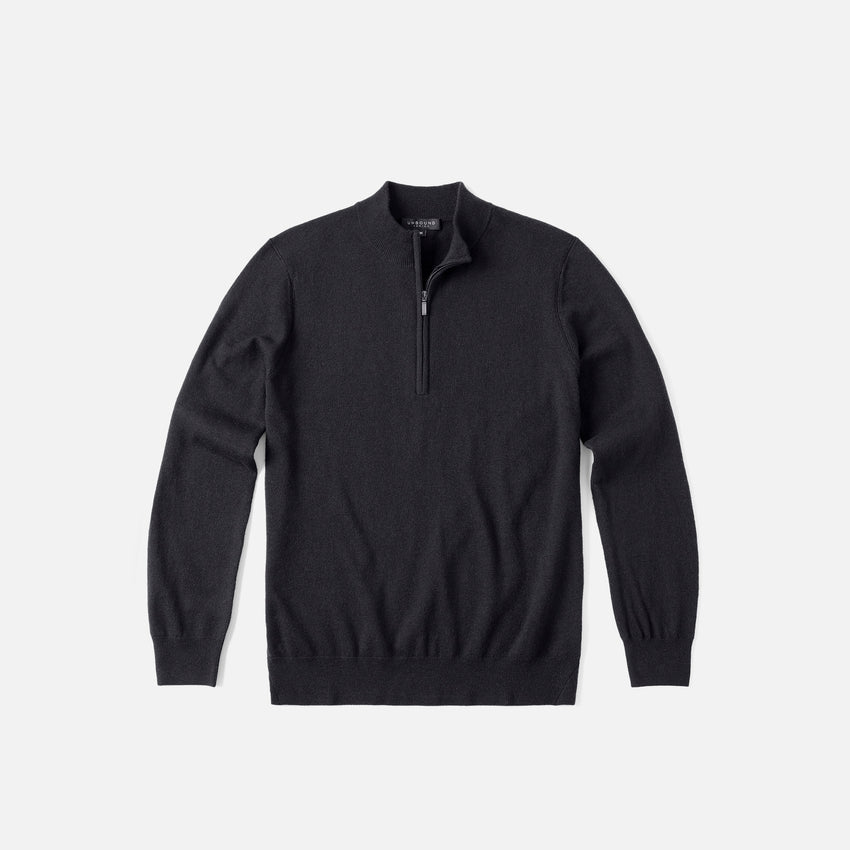 Pinch or double tap to zoom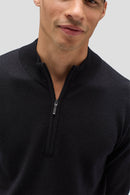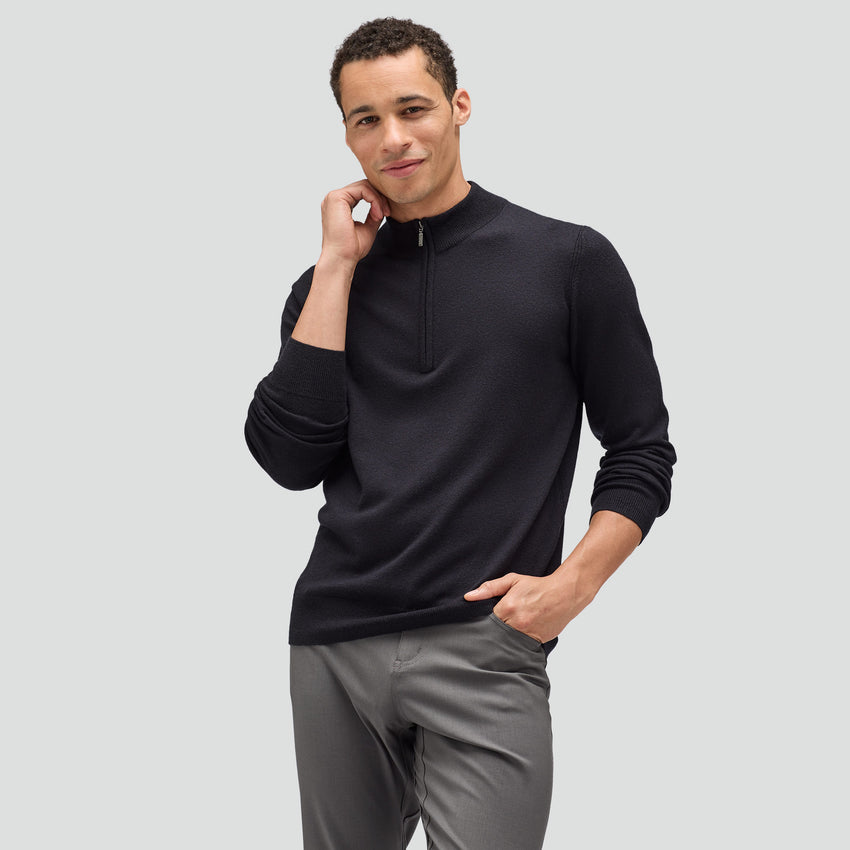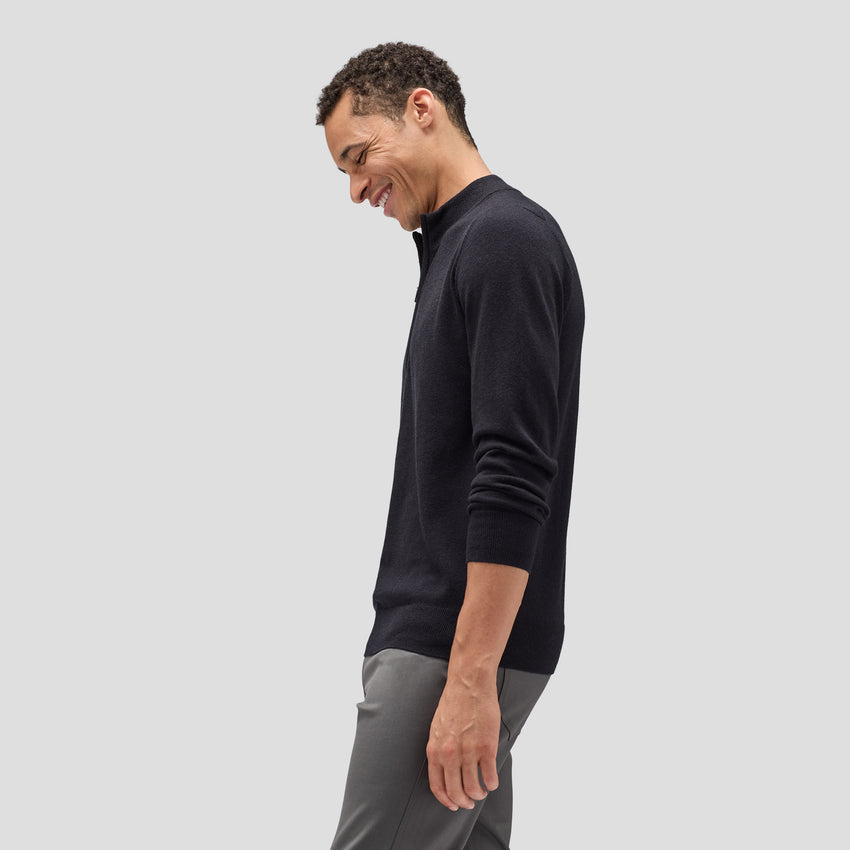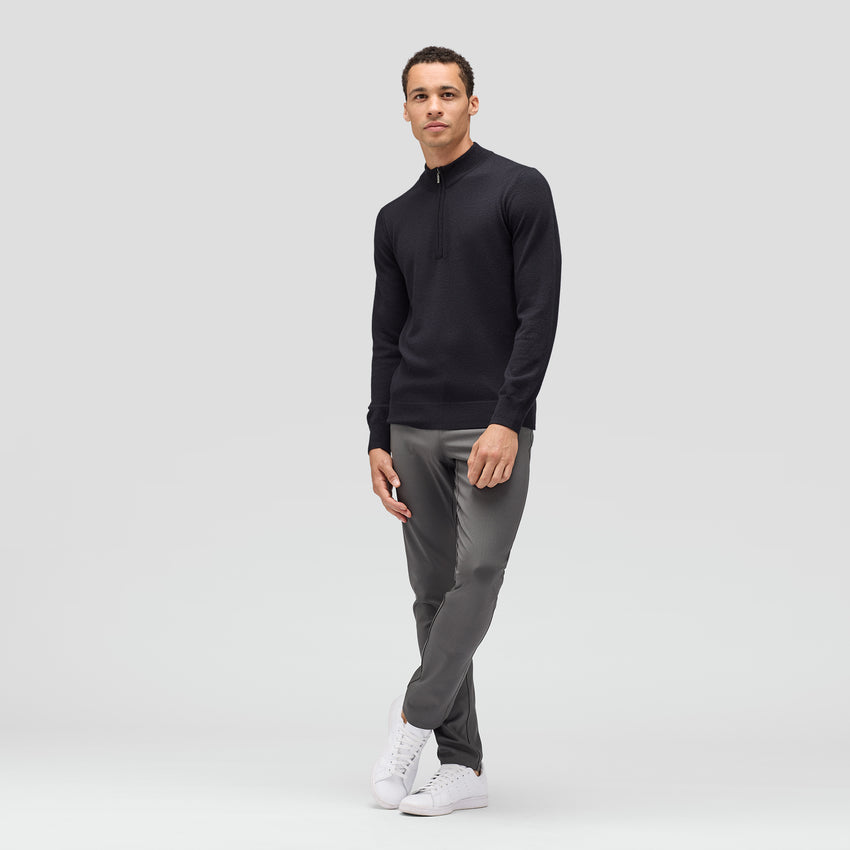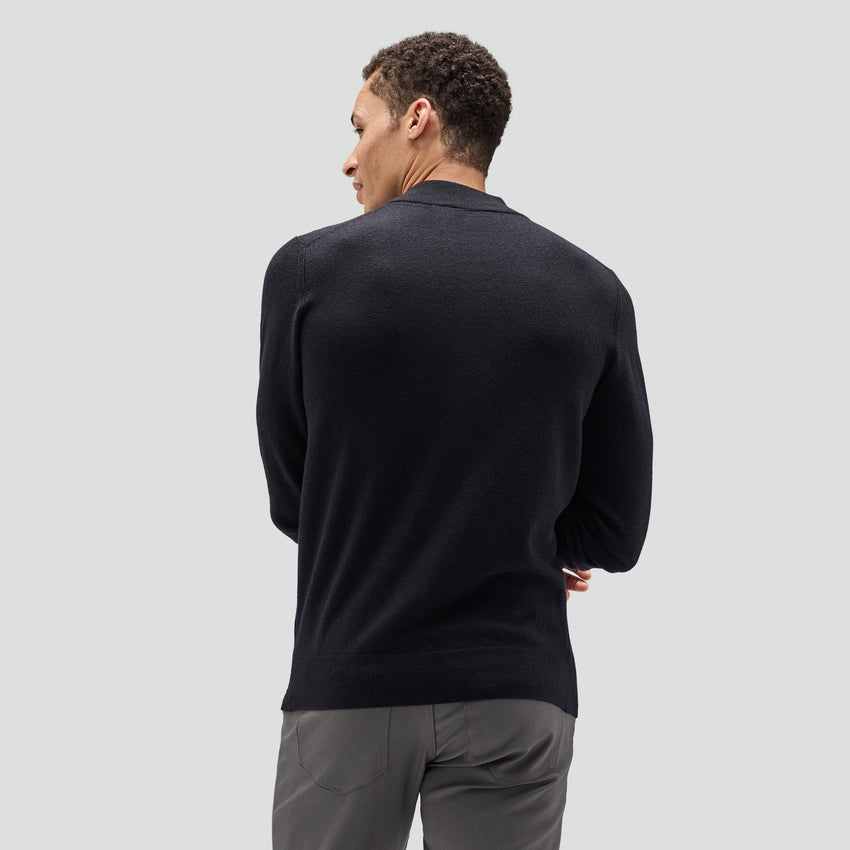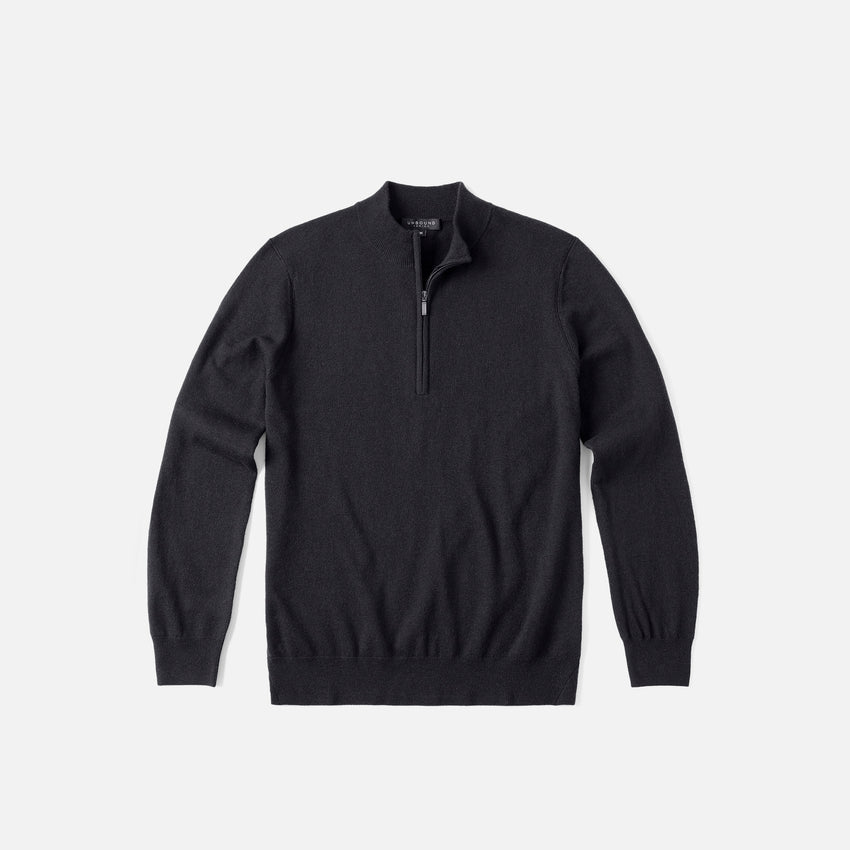 Pinch or double tap to zoom
Model Info +
Height: 6'0" / Chest: 40" / Waist: 31" (Wearing size M)
Men's Merino Cashmere Quarter Zip Sweater
Regular price
Sale price
$185
Unit price
per
or interest-free payments of $46 with
Merino performance meets the luxurious softness of machine washable cashmere in a classic, elevated quarter zip mid-layer.
Learn More
Why our
customers love us
Temperature regulating

Fast drying

Perfect for packing

Moisture wicking
Machine wash cold gentle in the wash bag provided
Turn inside out for washing
Use a wool cycle on washing machine
Wash with mild detergent
Do not wring, lay flat to dry
Do not tumble dry

Cozy Warmth. Classic Style.
Uncompromising Quality.
High performance Merino wool blended with cashmere and nylon for superior comfort.
Versatile, warm layer with no flashy logos.
Naturally insulates but keeps you from overheating.
Merino wool's antibacterial properties means minimal washing.
Lightweight and packable for easy travel.
As featured in

SOFTER THAN COTTON
This wool isn't like your typical itchy sweater. We only use superfine (19.5 micron) Merino wool, blended with super-soft and machine washable cashmere, resulting in a luxurious, silky soft feel that's lighter and plusher than your average Merino or cotton. And unlike most clothes these days, it'll also maintain its form over time and won't get ruined after a wash.
Learn more about the benefits of Merino wool

Regulates Body Temperature
Whether you're landing in Seoul or Santiago, the natural fibres of Merino wool are excellent when it comes to regulating your body temperature. The breathable material retains warmth, but not to the point of overheating - providing optimal comfort in any condition.
Cozy Softness
Modern spinning technology has made Merino wool the softest, most luxurious of all wool types. Perfect against your skin, the fibers will never itch or irritate, outclassing any and all synthetic fibres.

EASY CARE
You won't have to wash this item much at all. However, when it comes time for a refresh, simply turn it inside out in a laundry bag, add it to your load at the cool, gentle setting, then lay flat to dry.
ABOUT OUR WOOL
Sustainably sourced from independent, cruelty-free wool farms.
Woolmark® certified Merino wool means you can expect the highest standards related to fiber content, performance, color fastness, and dimensional stability.
Made in Green OEKO-TEX® certified which guarantees this item was manufactured in environmentally friendly, socially responsible facilities.

Eric Stoen
Unbound Merino's shirts are absolutely perfect for travel – good in every situation. They've simplified my packing so much that I'm now a carry-on traveler for the first time in my life!
Eric Stoen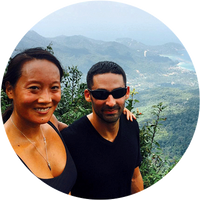 Jonathan Goodman
Having an every day outfit I feel good in reduces cognitive fatigue and allows me to put all my focus on the people I love and the things I want to accomplish.
Jonathan Goodman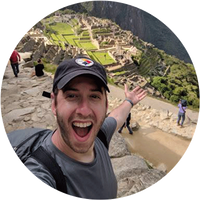 Eric J.
There was no way I could have possibly traveled as lightly as I did without my Unbound Merino gear. I still can't believe that these clothes feel so good and really don't smell after so many days worn consecutively. It's just awesome.
Eric J.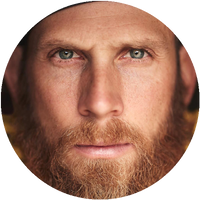 James "Iron Cowboy" Lawrence
Unbound Merino performs as promised, and has totally simplified how I pack when I travel the world. The shirts are AWESOME and the underwear feels like having your balls cradled by the hands of angels.
James "Iron Cowboy" Lawrence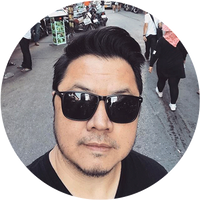 Ken S.
I've worn one Unbound Merino T-shirt for most of the 18 days I've been traveling through Hong Kong and Thailand. Super impressed that this shirt does as promised, it doesn't smell at all despite no washing.
Ken S.

Perfect for Travel
YOU'LL PACK LIGHTER
With clothing that doesn't smell after every use, you can pack less, allowing you to ditch the suitcase and travel with just a small backpack.
YOU'LL SAVE MONEY
These days, most airlines are going to charge you for anything other than a carry-on. Start packing lighter and doing less laundry, and save your money for the real experiences.
YOU'LL SAVE TIME
Never check luggage or worry about airports losing your stuff. With fewer but better clothes you'll blaze through airports like a seasoned pro.