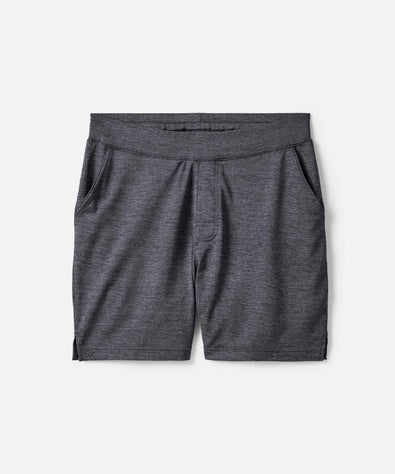 Style and Comfort Coexist in Our Men's Merino Wool Shorts
Men used to be forced to make an impossible decision when choosing travel shorts: style or comfort. You could wear a stiff chino, look pretty sophisticated, but quietly suffer on the inside with each passing bead of sweat, as worked your way uncomfortably through an Istanbul bazaar. Or you could throw on a carefree pair of drawstring shorts, knowing full well that the Parisian café you walk into might turn you away at the door.
Don't make that decision. The two aren't mutually exclusive. And to prove it, we present our Merino wool travel shorts for men. With some help from nature, these shorts manage to strike the rare balance between inimitable comfort and effortless style.
The Merino Advantage
Merino wool isn't just another wool. It's the apex of thousands of years of selective breeding. And at the end of it all, you get a premium, superfine wool that performs under even the most extreme conditions.
To understand why our merino shorts, socks and pants make the ideal travel bottoms, you have to consider the sheep. Over the millennia, they've evolved to withstand the rigors of life outside. They've developed mechanisms to stay warm in the cold, stay cool in the heat, dry quickly after a flash storm and fight off microbic intruders.
When you spin that wool into a pair of men's shorts, you spin all of these mechanisms too. Our shorts are insulating yet breathable, fast-drying and wrinkle-resistance, antimicrobial and soft. And if you manipulate that wool the right way – like we've done at Unbound Merino – you get a sophisticated fit and structure to boot.
Heat, Meet Merino Wool Shorts
These shorts have been everywhere. They've slogged through the brutal heat of Giza for a glimpse of the pyramids. They've trekked through the jungles of Sumatra for a rare peek at wild orangutans. They've hit up Brooklyn pizzerias in a New York heatwave, and smashed down volleyballs on a beach in Boca Raton. Our customers have traveled them to the hottest corners of the earth. And wherever they go, these men's travel shorts impress.
Their breathability and sweat-wicking characteristics actively move heat away from your body, dispersing it back into the open air. Coupled with a pair of our merino boxer briefs, they keep you cool, dry and comfy down there from sunrise to sunset. No more unsightly fidgeting or unseemly "adjusting." Just a cool pair of shorts, made all the cooler by the world's highest-performing material.
Shorts for Every Occasion and Activity
Okay, so there is one choice to make. In our Merino wool shorts men's line, you have two options: our Men's Merino Travel Shorts, and our Men's Active Merino Shorts. The former is a classic fit, resembling high-end tailor-cut chino shorts – timeless, sophisticated summer travel shorts for men. The latter is our spin on workout shorts, specifically designed for your sweatiest endeavours – sporty but not loudly so.
If you're planning a summer getaway, pack a pair of Unbound Merino Shorts (one or two pairs will suffice, even for long trips). And if your trip lasts into the fall or winter, check out our line of men's pants.
Read More